SunDog House has re-opened - St. Croix's only 100% solar Guest House!
Reduce the environmental impact and carbon footprint of your Caribbean vacation without sacrificing the comforts you enjoy. SunDog House is a completely solar Caribbean home, electric and water, filled with earth-friendly amenities like organic cotton bedding, organic bamboo towels, organic hemp rugs, recycled and recyclable consumables. Even your morning cup of coffee can be 100% organic and fair trade.
Top Ten (or eleven)
Reasons to Stay at Sun Dog House
Sustainable Travel - Your travel dollars go toward supporting a clean and sustainable planet.
Humane Travel - Your travel dollars go toward saving homeless, starving animals. A no-kill adoption center is included in our development plans.
Dogs - a fun and entertaining "security system". The dogs can get bored with us and welcome new people to smell, play with and talk to. You can get your 'dog-fix' while away from home, or bring your own, we're pet-friendly.
Value – The comforts and amenities of a home and sustainable features of an eco-resort, for less than most camping options.
Cleanliness - We clean our house. We're not absentee owners who hire a rental agency or local contractors with no stake in the property to take care of

SunDog

House.
Private Pool - No sharing with loud splashing children, no leering from that creepy guy at the bar. The pool deck is secure, private and relaxing.
Local Hosts - We've lived on St. Croix for many years. We can help you find the best restaurants, the finest snorkeling, fun activities and environmentally friendly things to do. And if there's something we don't know, we know who to call.
Real Neighborhood - Ever dreamed of living on a tropical island? We did too, and then we made the move. You will get a sense of what living here is actually like.

SunDog

House is not pretentious. This is not a "gated community", and it doesn't have to be. It's nice and safe, even without a guarded gate.
Top Priority - You get priority scheduling for relaxing massages from Beach Massage & Bodywork Delivered.
Economic Stimulation – Your travel dollars stay on St. Croix to support the local economy and environment.
No Tsunami Danger – We are not right on the water, but we can see it. The threat of tsunamis is minimal. Experts say that the presence of a barrier reef and mangroves mitigate the impact of a tsunami. We have both protecting

SunDog

House.
As you arrive at SunDog House, two large mango trees loom to your right. They are often laden with fruit, or abuzz with bees among the blossoms. You pass the front patio garden on your left. Red hibiscus, fuchsia bougainvillea and fragrant white frangipani mingle with green palms and pink desert rose. The sweet scent of night blooming jasmine still lingers in the air and hummingbirds and yellow sugarbirds twitter in the trees.
At about this point you are greeted by your SunDog canine hosts and hostesses, Ruby, Mini, Harvey "Houdini", Wiley "Coyote", and Goliath. Ruby, a tan Rottweiler mix, is loving and playful, her favorite past-time is to chew tennis balls beyond recognition. Mini is an accomplished hunter. A medium-small Cruzan mix, she can often be spotted chasing down lizards or other critters. Wiley likes lounging on the porch when he's not foraging for grubs.
You might catch a glimpse of the newest SunDog, Harvey R. Clapp IV, a gimpy little lab with a broken leg when Terry first rescued him from beside the road, he's now the fastest dog on the block, climber of concrete walls, and accomplished escape artist. Goliath, AKA Little Big, small in stature, big in attitude, may deign to say hello. And finally, Fiona. An honorary SunDog, both Beauty and The Beast rolled into one feisty feline, Fiona is the true ruler of the roost.
The house is grid-tied, for efficient and ample electrical storage, but all power necessary to run the household circuits is supplied by the Outback Power Systems inverter and charging system. Sufficient electricity (and more) to power the entire house is produced by 20 115watt Evergreen solar panels and an array of Concorde Sun-Xtender batteries supply uninterrupted stored power in the event the grid is down. Hot water is provided by roof-top solar collector and stored in an 80 gallon insulated tank.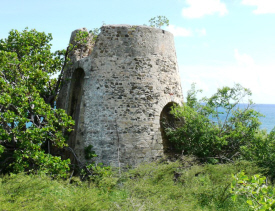 Castle Nugent National Historic Site, coming soon, will be practically across the street with hiking trails to amazing views of both the north and south shores. Use our well-maintained mountain bikes to explore here, or other nearby sites. Ride less than a mile to the East End Marine Park, home of our famous Great Pond Bay where many migratory birds spend the winter.